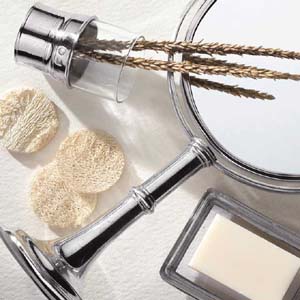 We have a small collection of bath accessories for its more discerning customers, they have a solid appearance and a particular patina which is never dark and you only need water and soap to give them again their original shade. They are accurately manufactured in order to seem "antiqued" and they give to the bath the right warmth. Discreet objects with a strong personality blend in with a wide variety of decorative solutions.
Our bath accesories include: vanity mirrors, bath baskets, soap dispensers, jars with glass, tissue boxes, bath salt shakers, soap dishes, toothbrush cups.
The alloy used satisfies all EEC and USA regulations governing containers for alimentary use.